Historic Agreement Approved for the Operation and Management of Maui Region Health Care Facilities
HHSC CEO Remarks Maui Signing
January 14, 2016
It is a privilege to be here today with all of you at this historic moment for healthcare in Hawaii.
HHSC is proud of the services it has provided in the Maui Region in the past, but also recognizes that to continue to provide healthcare under a government model has limitations.
Healthcare today is a very complex, highly regulated, and rapidly changing business with constant pressure from payors to provide higher quality care at a lower cost.
Development of health information technology, physician networks, quality improvement and expertise in revenue cycle is essential for successful hospital operations.
Hawaii's private hospitals have invested substantially in these areas and while we try our best, it is challenging for HHSC to keep pace.
Allowing private providers to assume more of the responsibility for healthcare across the state has the potential to bring a higher level of services while also reducing the burden on taxpayers.
It is a logical and positive evolution in neighbor island healthcare as our communities move beyond so called "safety net" services to access a greater array of services closer to home.
The signing of this agreement is the culmination of years of efforts by many individuals inspired by their vision for health services in their community. I applaud their efforts and feel honored to have been a small part of it.
As a physician who has worked in healthcare across the state for over 30 years I am confident this change will bring stability and growth in healthcare jobs for employees, along with increased health services for the residents and visitors of Maui and Lana'i.
I look forward to working with Kaiser to facilitate a smooth and successful transition into the future.
---
Hawaii Health Systems Corporation provides accessible, high quality, cost-effective services that address the healthcare needs of Hawaii's unique island communities.
Given the combination of its total acute and long-term beds capacity, HHSC is one of the largest public health systems in the country and the largest provider of healthcare on every island except Oahu and Molokai.  HHSC is the only acute care provider on the islands of Maui and Lanai. HHSC is the "Safety Net" for Neighbor Island Acute Care and the "Safety Net" for Long-Term Care (LTC) in the state of Hawaii. The system operates 1,275 licensed beds in facilities located on five different islands. In Fiscal Year 2013, HHSC hospitals provided a total of 21,141 acute care admissions and 112,852 acute care patient days; 1,329 long-term care admissions, 243,676 long-term care patient days; 3,620 babies born and 113,841 emergency room visits.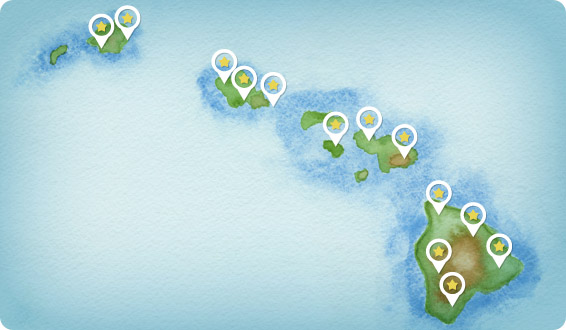 Facilities Map: Click the map for more information about our facilities.